---
12 Questions with JORDAN STEMPLEMAN
---
1. Hey Jordan, do you carry a notebook? Got a phrase dashed in there that you just can't shake?
I don't carry a notebook. I tend to think about poetry or in a mood that feels like I'm writing something for days, weeks even, before I sit down and write anything. And I don't worry about retaining certain lines. It's the mode of consideration and attention and knuckling under of giving away myself and giving into the poem that I return to when I sit down to write.
*** ** ***
2. Hey Jordan, got three words to describe your poems?
Not as dumb as me.
*** ** ***
3. Hey Jordan, what's your favorite word?
The one that appears right, sometime in the future after it appears.
*** ** ***
4. Hey Jordan, got a favorite quote about poetry?
Favorites are always changing and becoming a lineage of favorites. But this quote by CD Wright:
Poetry it turns out, not capital, is what is fluid.
*** ** ***
5. Hey Jordan, what's something poetic about Kansas City?
James Tate was born here. And Anne Boyer writes her mind out here. And the list goes on.
*** ** ***
6. Hey Jordan, got any go-to revision techniques?
Stop lying to yourself or otherwise convincing yourself you nailed it.
*** ** ***
7. Hey Jordan, what's the last non-poetry book you loved?
Pema Chodron's The Places That Scare You.
*** ** ***
8. Hey Jordan, could you tell us about the first poem you wrote?
It was in 7th grade for Hebrew school. Something about the Holocaust. Then I wrote some other poems, assigned poems in school. I really didn't start writing my own poems until high school heartbreak and histrionics. I have always been drawn to the most domestic of things.
*** ** ***
9. Hey Jordan, what's best piece of writing advice you ever got?
One time when I was 19-20, Tom Raworth checked out a huge stack of poetry books from the Harold Washington Library and let me borrow them. You read to write.
*** ** ***
10. Hey Jordan, what do you read when you're not reading poetry?
Anything that sticks and moves.
*** ** ***
11. Hey Jordan, do you have a website/Youtube channel/Tumblr/ or the like?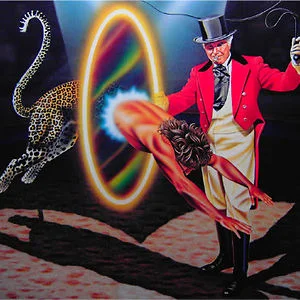 http://jordanstempleman.tumblr.com/
*** ** ***
12. Hey Jordan, do you ever stop talking about yourself?
…silence.
*** ** ***
[This Q&A was conducted in June 2016 and first published, via Facebook and Twitter, in July 2016]
---
A Dozen Questions.JORDAN STEMPLEMAN